Testimonials & References

Rémy Dupont
Production director, NPA
All consultants do their time input from their workstation with a simple internet connection. Team leaders have their own views and activity reports, and the management a view on the whole workforce. The reports are monthly and detailed by consultants and customers on which they intervene. At the end of each assignment, a profitability report is produced by reconciling the estimate and the production balance sheet.

Vincent Van Lacken
At Aquitaine, we have just installed Opentime. After just a few months of using it, the colleages seem very satisfied. It's easy and friendly to use. With a simple Internet connection we can fill it from anywhere. For project managers it is a tool that will facilitate the work of monitoring and review. It is also useful for tracking leave.
We do not operate in all its dimensions, but we were easily able to adapt the tool to our analytical needs. In short, we're very satisfied! Especially since technical support is very responsive.

Richard Loubéjac
General Manager, J2S
We are convinced users of Opentime for the followup of our time spend on our projects of J2S. The level of functionality is perfect for our usage.

Yves Boulanger
We are using Opentime for 4 years now and it really facilitates the time management and invoicing. Simple et and fast to learn.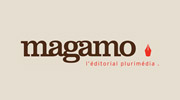 Alix de Massia
Director of the agency Magamo
Intuitive and efficient, Opentime is a tool for time management that are prefect for a editor agency. It offers a clear vision of the advancement of running files and the invoicing!

Estelle Jollivet
I have been seduced by the user-friendliness of Opentime, and by the possibility to only use the tools that we need by masking the others. What's more, the prices are very favorable of a start-up like ours.
Martin Blum
Interactive Designer at Blumbyte
We are using Opentime in our little company for a few years now and we will glady recommend it to others. The software is fully functional and the editor reactive. Also, Opentime offers a range of usage conditions that are very flexible.